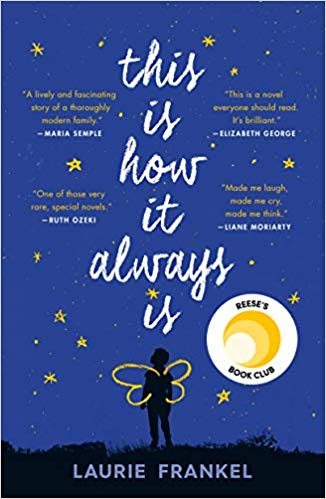 October 9, 2018
Dear Mr. Hemingway,
Oh, how our lives are constantly filled with "what ifs". You can make yourself crazy trying to answer that question, day in and day out about every little thing. However, there is much beauty in a question beginning with these two words. There is a certain mystery in it that will not only evoke interest but will create dialogue, debate, and overall awareness of a new or existing issue. I just finished reading, This is How it Always Is, by Laurie Frankel. My mind has not stopped racing since the completion of this story (making this a FABULOUS book club pick for friends). Because of this, I open my letter to you with another "what if" question. What if your five-year-old son thought he was a girl? He literally identifies with the female sex in the most natural and innocent way and is completely thrilled with this.
In Frankel's book, fictional parents, Rosie and Penn embark on an unfamiliar parenting path (off roading, if you will). Their youngest son (youngest of five boys) Claude believes he is a girl. He loves wearing dresses, playing with his peers who are girls and is the most joyful wearing a two piece bikini in the pool. He has the most loving parents who not only support him by changing his name to Poppy, but keep this family secret. Like any secret, there are costs to keeping up a lie. Decisions made for one, often impact others in ways unexpected. At what point during a child's self-expression should a parent intervene and protect them from the world? In her book, Frankel writes of gender dysphoria and transgender issues with a sensitivity that envelopes compassion, honesty and courage. It is an absolutely heartwarming story that mixes truth with fairy tale. Frankel gives readers an intimate glance at one family's unexpected journey into the sea of unknown. Most importantly though, readers can briefly experience a world with no labels, no judgement and unconditional love through the eyes of a five year old child. I know that fairy tales are not exactly true, but everyone deserves a happy ending.
Enjoy!
Write to you next week!
Your Biggest Fan,
Kelly
P.S. If you enjoy This is How it Always is, check out Super Late Bloomer…….My Early Days in Transition by Julia Kaye. This is a Kaye's personal experience during her early months of gender transition. It is a Non-Fiction Graphic Novel for adults and is brilliantly executed. Make sure to read the Before and Letter to my younger self (part of the book) as well.