September 5, 2019
Dear Mr. Hemingway,
It has been weeks since my last letter to you. Time flies by when you are on vacation, spending time with friends and family, and reading wonderful books! Nevertheless, summer is over 😢😢 and fall is in the air 😁😁. Today, I thought it would be great to recap a bunch of books that I've read recently. Now is the time to get everyone's fall TBR piles stacked and ready to go. I look forward to writing to you often this fall Mr. H.
Until Next time!
Your Biggest Fan,
Kelly
P.S. I am looking forward to everyone's comments on this post. I would love to know what everyone is reading!

The Perfect Wife by JP Delaney is a fantastic read. What started off as a thriller, quickly turned into so much more. Abby, a mother, surfer, and artist wakes up one day dazed and confused. She has no idea who she is or where she is. Her husband gently informs her of an accident that happened many years ago. Before I go any further, The Perfect Wife is the kind of book to read without knowing too much going into it. I was pleasantly greeted with surprises, twists, and sharp turns along the way. Without divulging too much information, I will say that this book is filled to the brim with mystery surrounding Abby and her tech-savvy husband. Delaney's story is so intriguing that you will be hooked from page one. It is the perfect blend of domestic noir with a splash of sci-fi and the unconditional love of a mother. I had an extremely difficult time putting this fast-paced novel down. I highly recommend this read. It is crazy different and crazy good! Thank you to Random House (Ballantine Books) via Netgalley for an early look at this book. It is out now!!!!!
P.S. Click here to purchase The Perfect Wife by JP Delaney
Wow!!!!!! The Unbreakables by Lisa Barr was an amazing read for me this summer. First of all, the cover alone had me at "Hello"! In addition to my cover love, Barr's book was overflowing with passion, betrayal, and self-discovery (this is my jam). The story follows Sophie Bloom, a 42-year-old mother who discovers on her birthday that her husband has been having multiple (and I mean multiple) affairs. So what does she do??????? Sophie takes off for France to rediscover who she really is and what her life is now going to look like. Cheating husbands and marriages falling to pieces are not new themes in the world of fiction (or nonfiction). Barr manages to take it a step further by untangling the roles of infidelity, love, and friendship with her characters. Mt recommendation is to jump right on in with this book. It is fast, engaging, and "unputdownable". Go grab it now!!!!
P.S. Click here to purchase The Unbreakables by Lisa Barr.
I am an absolute sucker for the classic frenemies turn lovers romance story. Nina Bocci's new book, On the Corner of Love and Hate, met my romance reading needs this summer. Emmanuelle and Cooper have been friends since they were kids. Now that they are back in their childhood hometown and working in the same office, Emmanuelle realizes just how much of a grudge she holds against Cooper. When Cooper decides to run for town Mayor, Emmanuelle takes on the difficult job of managing his campaign and his personal life. Bocci's story follows these two bickering "friends" as they both navigate the campaign trail and their feelings towards one another. As it gets closer to voting time, Emmanuelle needs to make some personal decisions that will have an impact on moving forward with Cooper and the race to a campaign victory.
I absolutely adored On the Corner of Love and Hate by Nina Bocci. I loved all the characters in this small town romance story. The political backdrop was the perfect setup for Emmanuelle to figure out her true feelings for Cooper. Their relationship had the exact amount of wit, charm, and sarcasm to keep the pages turning. The romance was sweet and the steam level was extremely mild. Bocci's story is an easy-breezy read that will leave you grinning from ear to ear. I look forward to future books from this author. Thank you to Gallery Books via Netgalley for the advanced read of this book in exchange for an honest review.
P.S. Click here to purchase On the Corner of Love and Hate by Nina Bocci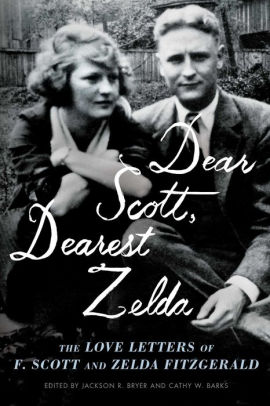 All you Great Gatsby Lovers out there are going to devour Dear Scott, Dearest Zelda: The Love Letters of F. Scott Fitzgerald and Zelda Fitzgerald. I am so amazed that the letters between F. Scott Fitzgerald and his wife Zelda Fitzgerald were found and preserved. Even more impressive is that these letters were pieced together to form an intimate look at the personal life of this literary couple. On the outside, Scott and Zelda appeared glamorous and put together. Cocktails, great food, and artistic friends were only a small part of the equation though. Their attractive lifestyle was filled with alcoholism, health issues, mental illness, and financial struggles. I didn't realize until I read this book, that Scott and Zelda lived a good portion of their lives apart. With Zelda in and out of mental health institutions and Scott traveling for work, caring for their daughter, and managing his own health issues, their relationship truly depended on their letters to one another. Even though their life together was filled with heartbreak, Scott and Zelda managed to hold on to hope and dreams for a better tomorrow.
I highly recommend this book to anyone who is a lover of literature and the works of great American writers from the 20th century. It was an honor to get an inside peek into the once private letters of such an iconic couple. Thank you to Scribner via Netgalley for the advanced read of this book in exchange for an honest review.
P.S. Click here to purchase Dear Scott, Dearest Zelda: The Love Letters of F. Scott Fitzgerald and Zelda Fitzgerald
If you are looking for an intimate read with unlimited depth, then On Earth We're Briefly Gorgeous by Ocean Vuong is the book for you. Vuong's main character and speaker in the story is named Little Dog. In his twenties, Little Dog tells his life story and his family history through letters he has written to his mom (who can't read). He holds absolutely nothing back in what he has to say. In addition to talking about his mother's past living in Vietnam during the war, he also describes their complex relationship and how it impacted his life. He also dives deep into his own sexuality and coming of age as a Vietnamese boy growing up in Connecticut. Vuong's writing is extremely raw and profoundly tender. Not surprising considering he is also a published poet. I had the pleasure of meeting and listening to Ocean Vuong at Print Bookstore in Portland, Maine this summer. It was a beautiful evening filled with words, passion, and wonderful people. His new book, On Earth We're Briefly Gorgeous is beyond stunning. His writing is lyrical, poetic, and breathtaking. When I finished Vuong's book, I was completely speechless. I highly recommend picking up this book. It is truly a work of literary art.
P.S. Click here to purchase On Earth We're Briefly Gorgeous by Ocean Vuong
If you have read anything by Blake Crouch, then you have a pretty good idea of how his books flow. If this is your first Crouch book…buckle up, it is a wild ride. The premise of his new book revolves around something the media is calling, False Memory Syndrome. Basically, individuals are having vivid memories of a former life they never lived. The memories are so strong and disturbing, that the victims of this syndrome are literally going mad, even resorting to suicide to escape the insanity. In comes Barry Sutton, a NYC cop who is investigating this phenomenon, and neuroscientist Helena Smith, who is working on developing technology to preserve one's most important memories. Memories, the physics of time, and many twists and turns will have you on the edge of your seat! Warning…this book moves fast. Once you start, you are in it to win it. Crouch's Dark Matter rocked my world, and Recursion rocked it again! Happy reading!