Pretending by Holly Bourne (Mira Books)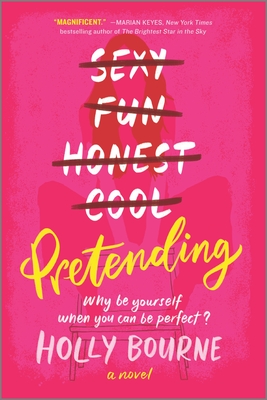 November 30, 2020
Dear Mr. Hemingway,
I am excited to tell you that I just read my very first Holly Bourne novel and I can't stop thinking about it. Bourne's latest novel, Pretending, blew me away. She tapped into all of my emotions in one swoop. What I thought was going to be a light and fluffy experience, turned out to be an emotionally raw and engaging read with quite a few laughs on the side. Let's take a deeper look into this novel, shall we!
Before I dive into telling you about this book, I need to let you know from the start that Pretending includes rape, sexual assault and recovery. There is no avoiding it or skipping past it in this novel. If this subject matter is triggering or one that you are uncomfortable reading about, please gently put this book aside.
April is single and in her early thirties. As much as she wants to find Mr. Right and settle down, there is one thing getting in her way…SHE HATES MEN! She makes it very clear how awful they are from the start. Her angry tone towards the male population may seem over the top at first glance, but you will quickly learn its origin given her traumatic past. Being sexually assaulted by her ex-boyfriend took away a part of April she can never get back. Men want carefree women with no worries. Women who ooze body confidence like no other. Women who care, but not too much. Women who are secure in who they are. Women who are interesting and want to go to cool places… like Africa. Women who effortlessly look fabulous all the time. You get the idea. The problem is that April is none of these things. The potential to be that "type" of woman was stolen, along with a part of her soul by a man. Who on earth wants to date damaged goods? Baggage is only sexy at the airport on the way to a romantic destination with your lover…am I right? April can't get past that fact that once a man sees her for who she really is, they will no doubt run the other way.
"I want to have someone in my life who completely and utterly knows me, and has earned the knowing of me by their unwavering willingness to stick around while I slowly reveal it all. It only grows with time and commitment and dedication, and that only comes with someone deciding you are worth the investment to become knowable. Someone who believes the bits they will learn about you will make them love you only more, not less."
On a quest for revenge on her ex and on all men who walk the earth, April decides to test her theory out on a dating website. Instead of being April (her true authentic self), she pretends to be Gretel, a fictional version of herself that encompasses all things that she believes men "want" in a woman. The plot thickens when she starts dating Joshua. Being "Gretel" seems to be working. Joshua is smitten with her. However, as the weeks go by, the real April starts creeping in and Gretel becomes more exhausting to manage. Ultra cool Gretel is difficult to keep up with when flashbacks from April's past make unexpected appearances while with Joshua. Her feelings for Joshua become muddy while overseeing Gretel and April's emotions simultaneously. Will Joshua see through the lies and discover the "real" woman he is dating?
Pretending worked for me on so many levels. What I absolutely loved about this book is Bourne's writing style. April's journey toward healing and recovery was written with not only the greatest sensitivity to a difficult subject matter, but with a dark comedic vibe that had me laughing out loud. Because her private thoughts and vulnerability are fully exposed between the pages of this book, it was easy for me to connect with April. I personally enjoy getting into a character's head space while reading. It is the complexity of their innermost thoughts that oftentimes drive the story forward. There were definitely times in the book where I wanted to shake what I thought was "sense" into April. I may have even tried to push her into therapy to process her trauma if I could. However, this is April's story, and as it unfolds, I quickly realized that what may seem like a traditional and more straightforward approach to healing, may not be her direct path. "Pretending" to be someone else with an innocent man to seek answers you so desperately need may not sit well with the moralists out there (fair point). But sometimes storytelling is what we need to truly digest the magnitude of awful things in life. It also introduces the reader to Joshua, who I really want everyone to meet. Joshua, Joshua, Joshua!!!!
Pretending was the perfect afternoon read. I am not going to lie, at first I thought the combination of rom-com with the sexual assault component was strange. It felt weird, even slightly inappropriate to be chuckling and swooning over a gorgeous guy on one page and absolutely horrified and distressed on the next page. It worked though. Bourne weaved together an entertaining read about romance, love and self discovery while tackling the issue of sexual assault and recovery with thoughtfulness and grace. I loved April and her journey and my feelings for Joshua…well lets just say, you will find out soon enough!!!!
Much love and reading to you!
Your Biggest Fan,
Kelly
P.S. Thank you to Mira Books for the advance reader copy of Pretending and for having me on this amazing Blog tour. Pretending is out NOW!!!!!
Click the book pic to purchase from your local bookstore.